General
---
Documentation for version: v1.2.0
The documentation of all former Sakuli versions can be found on consol.github.io/sakuli
Sakuli Short Overview Presentation
last updated: 12.2017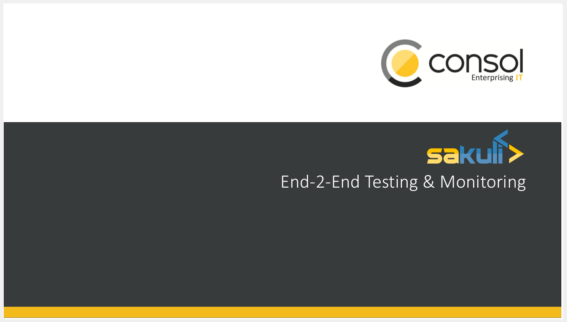 Contributors
At this point we want to thank all contributors, which helped to move this great project by submitting code, writing documentation, or adapting other tools to play well together with Sakuli.
Tobias Schneck - Sakuli Team / Project Leader, Core Development

Simon Meggle - Sakuli Team / Project Leader, Monitoring Integration

Christoph Deppisch - Sakuli Team / Core Development

Georgi Todorov - Sakuli Team / Core Development

Lukas Höfer - Sakuli Team / Consultant

Sven Nierlein

Philip Griesbacher - Sakuli Go Starter

Thomas Rothenbacher

Christopher Kreft

Sven Hettwer - OpenShift S2I build
(did we forget you? Please poke us):
Valued supporters
Very special thanks to all customers which always nourish this project with new ideas and impulses and make it possible in the first place to give it back to the community as Open Source Software. Thumbs up!
LIDL Stiftung & Co. KG

Deutsche Pfandbriefbank AG

Siemens AG, Global Services Information Technology

Federal Ministry for Economic Affairs and Energy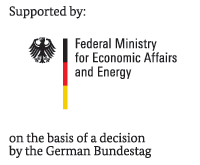 Download
Raw ZIP
Raw Sakuli installation directory, containing Sakuli, Sahi and examples. Useful if you want to build your own installation routines. The installation scripts and the Sakuli binary can be found in sakuli-v1.2.0/bin/:
Branches & build status
branch
build state
docker images state

master

consol/sakuli-ubuntu-xfce-java

consol/sakuli-centos-xfce-java

consol/sakuli-ubuntu-icewm-java

dev

consol/sakuli-ubuntu-xfce-java:dev

consol/sakuli-centos-xfce-java:dev

consol/sakuli-ubuntu-icewm:dev

consol/sakuli-centos-icewm:dev

consol/sakuli-ubuntu-icewm-java:dev
Why Sakuli?
There are already a variety of free end2end/automation tools on the market (Sahi, Selenium, WebInject, Sikuli, CasperJS, AutoIT , …), but each of them has at least one of the following drawbacks:
Too specifically: pure web testing tools can only deal with pure web content. Applets, Flash, dialogues generated by OS, browser dialogues etc. are invisible and a insurmountable hurdle for such tools.

Too generic: screen-based testing tools "see" everything the user sees. They are the best choice for GUI tests, but inappropriate for web tests, because each browser type has its own understanding of how to render and display a web page.

Far from reality: There are tools to test web applications on protocol level - but to know whether a web application is working or not requires a test from the user's perspective.

Inflexible: Hardly one of these tools brings the ability to integrate into other systems (like Nagios or Jenkins).
Key Features
Platform-independent UI testing tool

End-2-End monitoring of application functionality and quality

Combines two automation technologies:

DOM based web testing

Image pattern based UI automation (for non-web content)

Scalable from single-client up to multi-node container setup for parallel execution

Integration of test results into

Monitoring systems (e.g. Nagios/Icinga)

CI builds (e.g. Jenkins)
Concept

Sakuli simulates user actions on graphical user interfaces (web, fat client, citrix, …), and provides the obtained information (runtime, result, screenshots) to third party (e.g. Nagios compatible monitoring) systems.
Sakuli is written in Java and runs on many platforms:
The Sakuli project brings together two Open-Source end-to-end testing tools which perfectly fit together: Sahi for web-based tests (by injecting JavaScript code into the browser), as well as the screenshot-based testing tool Sikuli, which allows the execution of keyboard and mouse actions on screen areas that have been defined by previously recorded screenshots and are recognized using the OpenCV engine.
Sakuli accesses both tools via its Java API and makes it possible to use them simultaneously. For example, web tests can be done very performant with Sahi (where a screenshot-based approach would be at best the second choice), whereas "off-DOM"-content can be catched with Sikuli. Whenever a web test comes into a situation which Sahi can't handle (e.g. a PIN dialogue for a smartcard login), use a Sikuli command. On the other hand, pure tests of fat client applications can be easily be setup by using only the Sikuli functions of Sakuli.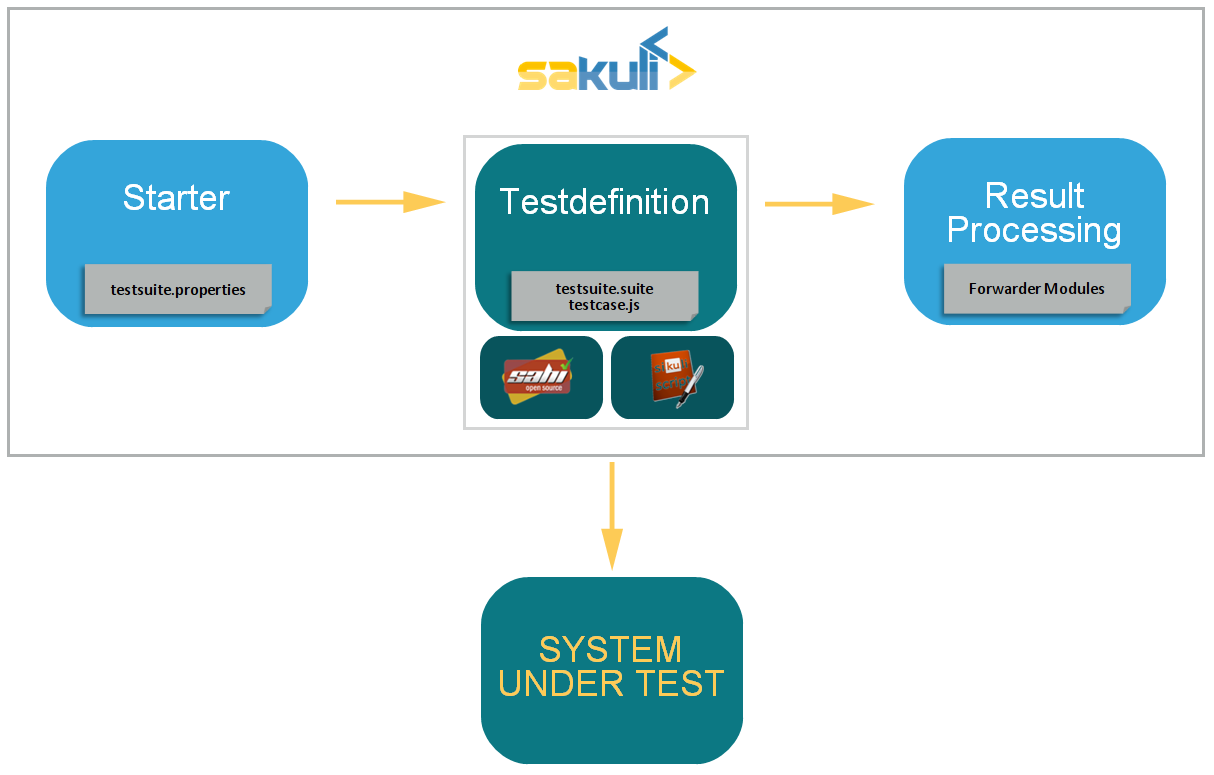 The integration of Sakuli in other tools can be done by different so called forwarder modules:
Table 1. Sakuli forwarder modules
Forwarder
Technology
Use cases

default

- Log-Files and screenshots
- Command line output

- Continuous Integration server
- Locale test runs

- Output files in JSON format

- Sakuli GUI
- Interface to 3rd party systems

- JDBC-SQL

- Integration in Nagios based monitoring systems as active checks with check_mysql_health
- Persistent storage of results
- Ready for own reporting implementations
- Interface to 3rd party systems

- Gearman

- Integration in Nagios based monitoring systems as passive checks

- Icinga2 REST API
- JSON Data

- Integration in Icinga2 as passive checks

- Result spool file on check_mk agent

- Integration in CheckMK through customizable spool file
- preconfigured service templates
2. Example projects and Tutorials on GitHub
5. Media
Sakuli Short Overview Presentation
last updated: 12.2017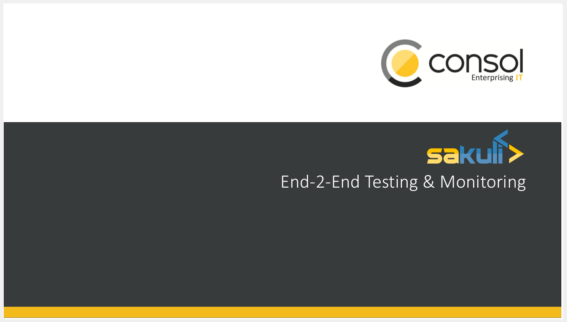 YouTube: OpenShift-Build-Pipelines
Shows how to use Sakuli, Citrus in OpenShift build pipelines.
Monitoring Minutes
Episode 9 of the ConSol Monitoring Minutes shows the main features of Sakuli in 15 minutes. The machine used in this video is an instance of our demo appliance.
Sakuli End-2-End-Testing - Lightning Talk - Agile Testing Meetup (June 2015)
7. Support
You want to use Sakuli in your project and need on-site help from our Sakuli experts? You've got a specific question about Sakuli implementation, or you're just looking for some guidelines and best practices in writing test cases or setting up your infrastructure? Please feel free to contact us! We will be glad to help you achieve your goals and a stable software application.
The Sakuli developers are the same that deal with high complex enterprise applications and cloud-based technology at our customers every day. So if you need special extensions or new features, do not hesitate to contact us! We would like to help you!
Also if you need Sakuli patches or fast access to special programming from the Sakuli development team contact us!
7.1. Training
Sakuli grew out of multiple software development and monitoring projects at ConSol. The Sakuli team can assist you not only in testing your enterprise applications but also in develop, operate and monitor those. If you looking for expert assistance regardless of which part - talk to us!
More information you also find under our project homepage: www.sakuli.org
7.3. Contact
The Sakuli team members will listen on the following channels:
The company behind Sakuli:

ConSol Software GmbH
Franziskanerstr. 38
D-81669 München