General
---
Documentation for version: v1.1.0
The documentation of all former Sakuli versions can be found on consol.github.io/sakuli
Sakuli Short Overview Presentation
last updated: 12.2017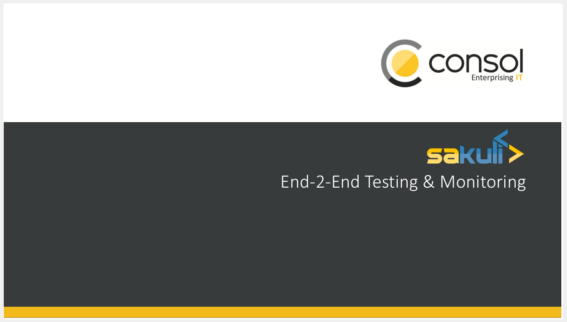 Contributors
At this point we want to thank all contributors, which helped to move this great project by submitting code, writing documentation, or adapting other tools to play well together with Sakuli.
Tobias Schneck - Sakuli Team / Project Leader, Core Development

Simon Meggle - Sakuli Team / Project Leader, Monitoring Integration

Christoph Deppisch - Sakuli Team / Core Development

Georgi Todorov - Sakuli Team / Core Development

Lukas Höfer - Sakuli Team / Consultant

Sven Nierlein

Philip Griesbacher - Sakuli Go Starter

Thomas Rothenbacher

Christopher Kreft

Sven Hettwer - OpenShift S2I build
(did we forget you? Please poke us):
Valued supporters
Very special thanks to all customers which always nourish this project with new ideas and impulses and make it possible in the first place to give it back to the community as Open Source Software. Thumbs up!
LIDL Stiftung & Co. KG

Deutsche Pfandbriefbank AG

Siemens AG, Global Services Information Technology

Federal Ministry for Economic Affairs and Energy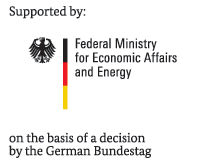 Download
Raw ZIP
Raw Sakuli installation directory, containing Sakuli, Sahi and examples. Useful if you want to build your own installation routines. The installation scripts and the Sakuli binary can be found in sakuli-v1.1.0/bin/:
Branches & build status
branch
build state
docker images state

master

consol/sakuli-ubuntu-xfce-java

consol/sakuli-centos-xfce-java

consol/sakuli-ubuntu-icewm-java

dev

consol/sakuli-ubuntu-xfce-java:dev

consol/sakuli-centos-xfce-java:dev

consol/sakuli-ubuntu-icewm:dev

consol/sakuli-centos-icewm:dev

consol/sakuli-ubuntu-icewm-java:dev
Why Sakuli?
There are already a variety of free end2end/automation tools on the market (Sahi, Selenium, WebInject, Sikuli, CasperJS, AutoIT , …), but each of them has at least one of the following drawbacks:
Too specifically: pure web testing tools can only deal with pure web content. Applets, Flash, dialogues generated by OS, browser dialogues etc. are invisible and a insurmountable hurdle for such tools.

Too generic: screen-based testing tools "see" everything the user sees. They are the best choice for GUI tests, but inappropriate for web tests, because each browser type has its own understanding of how to render and display a web page.

Far from reality: There are tools to test web applications on protocol level - but to know whether a web application is working or not requires a test from the user's perspective.

Inflexible: Hardly one of these tools brings the ability to integrate into other systems (like Nagios or Jenkins).
Key Features
Platform-independent UI testing tool

End-2-End monitoring of application functionality and quality

Combines two automation technologies:

DOM based web testing

Image pattern based UI automation (for non-web content)

Scalable from single-client up to multi-node container setup for parallel execution

Integration of test results into

Monitoring systems (e.g. Nagios/Icinga)

CI builds (e.g. Jenkins)
Concept

Sakuli simulates user actions on graphical user interfaces (web, fat client, citrix, …), and provides the obtained information (runtime, result, screenshots) to third party (e.g. Nagios compatible monitoring) systems.
Sakuli is written in Java and runs on many platforms:
The Sakuli project brings together two Open-Source end-to-end testing tools which perfectly fit together: Sahi for web-based tests (by injecting JavaScript code into the browser), as well as the screenshot-based testing tool Sikuli, which allows the execution of keyboard and mouse actions on screen areas that have been defined by previously recorded screenshots and are recognized using the OpenCV engine.
Sakuli accesses both tools via its Java API and makes it possible to use them simultaneously. For example, web tests can be done very performant with Sahi (where a screenshot-based approach would be at best the second choice), whereas "off-DOM"-content can be catched with Sikuli. Whenever a web test comes into a situation which Sahi can't handle (e.g. a PIN dialogue for a smartcard login), use a Sikuli command. On the other hand, pure tests of fat client applications can be easily be setup by using only the Sikuli functions of Sakuli.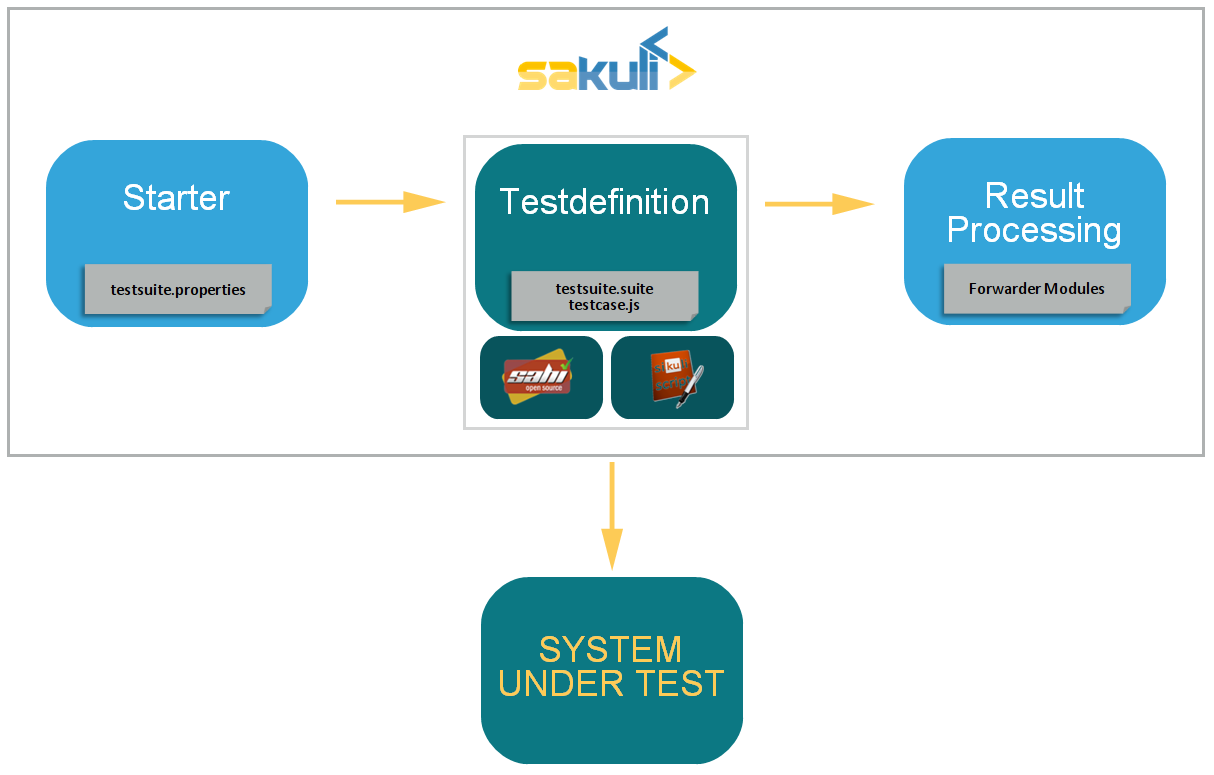 The integration of Sakuli in other tools can be done by different so called forwarder modules:
Table 1. Sakuli forwarder modules
Forwarder
Technology
Use cases

default

- Log-Files and screenshots
- Command line output

- Continuous Integration server
- Locale test runs

- JDBC-SQL

- Integration in Nagios based monitoring systems as active checks with check_mysql_health
- Persistent storage of results
- Ready for own reporting implementations
- Interface to 3rd party systems

- Gearman

- Integration in Nagios based monitoring systems as passive checks

- Icinga2 REST API
- JSON Data

- Integration in Icinga2 as passive checks

- Result spool file on check_mk agent

- Integration in CheckMK through customizable spool file
- preconfigured service templates
2. Example projects and Tutorials on GitHub
5. Media
Sakuli Short Overview Presentation
last updated: 12.2017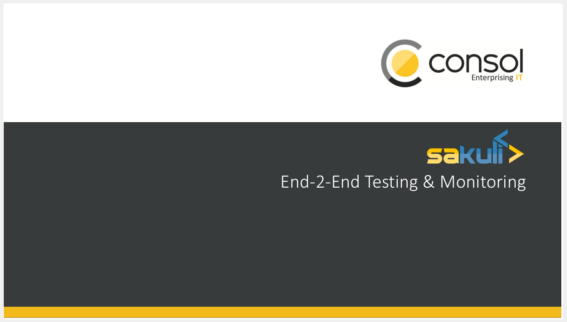 YouTube: OpenShift-Build-Pipelines
Shows how to use Sakuli, Citrus in OpenShift build pipelines.
Monitoring Minutes
Episode 9 of the ConSol Monitoring Minutes shows the main features of Sakuli in 15 minutes. The machine used in this video is an instance of our demo appliance.
Sakuli End-2-End-Testing - Lightning Talk - Agile Testing Meetup (June 2015)
6. Change Log
OpenShift and enhanced Sakuli Docker Images support (#218):

add different OpenShift templates under docker/openshift:

Docker Image Build from sources

Deployment Config for continuous test running

Job Config for onetime execution

POD run config for single execution only

GitRepoVolumeSource example configuration for a ready to use git-based testsuites execution

change startup to a non-root-user startup procedure

add Sakuli Images based on IceWM UI

add non-root java DSL based Docker images

add correct JVM heap sizing on startup due to Docker cgroups constraints

move to startup scripts to a more generic path: /dockerstartup

fix some Firefox startup issues

Use OpenJDK for docker images

Kubernetes support with examples under docker/kubernetes (#239)

skip vnc startup on docker containers on sakuli commands: -help, -version, encrypt (#198)

first step to improve exception message output (#37)

fix description of properties loading mechanism (#211)

fix some problems of the Gearman caching (#225):

add error handling for RuntimeExceptions to Gearman client

print out Exception class if no message is provided

add support for checkMK monitoring system, based on twig template based file output (#176)

Improved Sakuli event handler: hide screenshots after 30 days, delete after 60; adapted Thruk SSI (#236)

fix wrong exit code of go-starter sakuli -version

clean up ordering of gearman and icinga2 properties in sakuli-default.properties and documentation (#188)

fix Sahi startup errors with retry mechanism (#219)

merge pull request #220 from martku/patch-1

change dependency sakuli-go-wrapper to fixed version

smaller bugfixes and documentation update
Version 1.0.1 (Bugfix)
fix #190: fix Docker centos image: use tagged version consol/centos-xfce-vnc:1.0.1

Use consistent file naming and fix broken links in docs

fix example_xfce for new centos 7 version
Version 1.0.0
fix #32 highlight function on linux does not work (in underlying SikuliX library)

close #102 add method dragAndDropTo to the Region object

Changed order of properties.

Improve example_xfce:

Replaced calculator screenshot by a small one.

add mouse move action to example_xfce

close #139 remove PDF als download content type, to enable to use the browser PDF viewer

close #139 add start chrome + firefox maximised (firefox have to hold the file localstore.rdf in his profile folder)

close #168 add reboot hint if user install the package Windows environement changes

update the installer translation to the recommend one from https://github.com/izpack/izpack/tree/master/izpack-core/src/main/resources/com/izforge/izpack/bin/langpacks/installer

fix maven snapshot repository path of the labs.consol.de maven-repository '''
Version 0.9.3
Move to a new binary starter for Windows and Linux (sakuli.exe / sakuli), #150:

modify VNC documentation to flag -preHook and postHook

change documentation and docker scripts to new starter syntax sakuli run TEST_SUITE [OPTION]

add binaries sakuli and sakuli.exe from repo https://github.com/ConSol/sakuli-go-wrapper

remove sakuli.sh/sakuli.bat

Change syntax from the new starter to:
Usage: sakuli[.exe] COMMAND ARGUMENT [OPTIONS]

   sakuli -help
   sakuli -version
   sakuli run <sakuli suite path> [OPTIONS]
   sakuli encrypt <secret> [OPTIONS]

Commands:
 run <sakuli suite path>
 encrypt <secret>

Options:
 -loop <seconds> Loop this suite, wait n seconds between
 executions, 0 means no loops (default: 0)
 -javaHome <folder> Java bin dir (overwrites PATH)
 -javaOption <java option> JVM option parameter, e.g. '-agentlib:…'
 -preHook <programpath> A program which will be executed before a
 suite run (can be added multiple times)
 -postHook <programpath> A program which will be executed after a
 suite run (can be added multiple times)
 -D <JVM option> JVM option to set a property at runtime,
 overwrites file based properties
 -browser <browser> Browser for the test execution
 (default: Firefox)
 -interface <interface> Network interface card name, used by
 command 'encrypt' as salt
 -sahiHome <folder> Sahi installation folder
 -version Version info
 -help This help text
Add new forwarder module Icinga2, see #145:

Rest client to send the results to Icinga2 API

new property sakuli.forwarder.gearman.nagios.template.suite.summary.maxLength to cut to long output due to error messages

introduce sakuli.forwarder.icinga2 properties // consolidate sakuli.forwarder.database properties

Separate examples for Window 7 and Windows 8

close #118 improved output of nagios messages

close #151 add a bunch of Windows registry settings to the installer, to improve the test stability. Disables graphical effects, screen saver and error reporting.

fix #135 Environment similarity:

Extract constant Environment#DEFAULT_SIMILARITY to sakuli-default.properties as sakuli.environment.similarity.default:

Set default similarity to 0.99

close #163: add clean up method, which release all modifier keys before a test case will startet and at the teardown phase

fix #162: release keys didn't work correctly => update to sikulix version 1.1.998 and add function "run as admin" to dev suites

add an Around Aspect to net.sf.sahi.util.Utils.getCommandTokens to fix parsing errors during calling native commands, see http://community.sahipro.com/forums/discussion/8552/sahi-os-5-0-and-chrome-user-data-dir-containing-spaces-not-working

Documentation how to solve increasing sahi profile folders. Closes #164.

reduce wait times for example test suites

fix firefox_portable executable path in browser.xml: replace it with $userDir relativ path

consolidate forwarder properties: adjust jdbc. properties to sakuli.forwarder.database. properties

improve logging of database receiver

fix #153 sakuli.log.maxAge error, is smaller then 1

check_sakuli.php: added wrapper for function declarations to fix errors in PNP basket (cannot redefine…)

cl: update installer with special cl installer preselected options

close #155: add environment variables to –version output

fix for #158: linux installer correct firefox var to MOZ_DISABLE_OOP_PLUGINS

Added ff_purge_profile.bat to helper scripts (delete sqlite file before each run)

close #155: add -version parameter to Sakuli starter (sakuli / sakuli.exe)

close #153 log data rotation

add a property sakuli.log.maxAge in days (default 14 days)

deletes all files that are older than the defined days in the folder sakuli.log.folder
Version 0.9.2
add setting some firefox variables (MOZ_DISABLE_OOP_PLUGINS, MOZ_DISABLE_AUTO_SAFE_MODE, MOZ_DISABLE_SAFE_MODE_KEY) for UI testing to the installer, see #158.

Executable JAR installer sakuli-vX.X.X-installer.jar, downloadable via https://labs.consol.de/sakuli/install, see #24.

The installer contains a complete Sakuli setup and the following options:

will set/update the environment variable SAKULI_HOME to this version.

will set/update the environment to a recommend UI testing configuration. In examples disables the Firefox safe.

will install one example test suite per OS which will help you to test and understand Sakuli.

will install Firefox Portable, which can be used exclusively for Sakuli Tests.

will install QRes, a open source screen mode changer (Windows only)

modify docker images to new headless linux installer

custom sahi browser_types.xml for firefox, firefox_portable, chrome

Property sikuli.typeDelay now also set the RobotDesktop.stdAutoDelay to make the delay more effective, default is 0.0, #154.

issue #149 add Application.kill() to force closeting an app without "save prompts"

issue #94: disable highlighting in case of an exception

docker container: modify test suite permissions after test run in sakuli_startup.sh

Improve typing handling #154:

typing all special characters via unicode keyboard shortcuts

keyboard mapping only contains alphanumeric characters, so region.type now will work with all local keyboards, because of typing special characters via UFT-8

Mac's currently not supports directly typing UFT-8 keys, by default  see https://en.wikipedia.org/wiki/Unicode_input#In_Mac_OS . Unicode typing will only be used if correct keyboard is activated.

improve takeScreenshot: now also can handle with absolute paths

rename Region.takeScreenShot to Region.takeScreenshot

fix #107: Fix Sikuli LinuxUtil Implementation of:

Focus application

Closing application

Make output and control of native commands more flexible

include Sahi base installation to java DSL, #24

modify properties, so that all default values are included

add check that testsuite.id will be defined at least

allow to write test without explicit image folder path, to enable java tests

added docker-container sakuli-omd-labs-ubuntu for a Sakuli preconfigered OMD

sakuli.bat: added exitcode, fixes bug #128 (Errors with paths containing spaces)

fix #142: remove some not valid windows escape chars like ' or " to prevent a InvalidPathException in SakuliStarter arguments

docker-containers.md: Added hint for boot2docker users.

check_sakuli.php: fixed #132 (suite runtime)

close #103: make docker-container able to overwrite the running testsuite in docker run CMD arguments

make the sakuli.sh command line parameters usable in docker run CMD arguments, like for example docker run consol/sakuli-centos-xfce '--run $SAKULI_TEST_SUITE --browser chrome'

Added documentation how to configure HTTPS in Sahi. #53

Rename README.md to index.md in case of https://readthedocs.org/projects/sakuli/

headless-linux.md: Added crontab documentation.
Version 0.9.1
fix #116 wrong comma in gearman output

sakuli.bat: added SAKULI_HOME fallback if env var not set #124

sakuli.bat: added javahome parameter, added JVM option passing #122

update sikuliX version to 1.1.993

Merge branch 'dev-v0.4' into dev

sakuli.sh: JVM options (-D) allowed. #75

Improve Nagios monitoring integration:

check_sakuli.json: added first JSON template for grafana

check_sakuli.php: logfile destination now contains hostname and service description

check_sakuli.php: removed UNIT var. Everything is in seconds.

CheckMySQLHealthSakuli.pm: no perfdata on stale result (fixes #120), small output improvements

check_sakuli.php: fixed bug, Suite graph did not have correct value.

CheckMySQLHealthSakuli.pm: adjust perfdata output as on gearman output (closes #106)

Adapted mysql_purge.sh to new table names, added parameter. #10

Merge pull request #108 from sgbeal/master

Add Docker container consol/sakuli-ubuntu-xfce and consol/sakuli-centos-xfce, see #103:

add return value to sakuli_startup.sh and add exit state to sakuli.sh script

HTML5-VNC client (noVNC) enabled containers

docker-compose.yml example for parallel test-execution

add example_xfce_test for the docker-containers

fix PrioritizedServiceComparator so now 2 service with the same priority will also accepted

close #49 add Environment#runCommand method

add takeScreenshot() method to Region object to get the current region as screenshot

Merge pull request #99 from c-kr/dev

close #46 - add read the docs links and badge

improve the way to include additional image folders, #96:

add method addImagePaths to the TestCase functions

add variable '$testSuiteFolder' as global variable to JavaScript testcase.js for a more strait filepath handling

add optional parameter 'silent' to Application.close function to suppress exceptions

add OS identification functions 'isWindows', 'isLinux', 'getOsIdentifier' to Environment class

close #98 add source and javadoc files to maven build artifacts (on release-builds)

close #92 exclude Base64 String in log output

fix #95 state of suite/case/step is always 'OK', if no error occurs and warning + critical time is 0

close #81 Expanded color array in PHP template and change numbering scheme for cases and steps to 3-digits
Version 0.9.0
close #74 extract logging functions to separate javascript class Logger

close #70 rename sakuli.screenbased.* properties to sikuli.*

close #42 rename Application#closeApp to Application#close in javascript

close #27 modify 'non screenshot exception handling' // add TestCaseAction#throwException(message,screenshot)

add mysql Dockefile for sakuli database forwarder setup, see #10

close #10 rename table name from sahi to sakuli

rewritten documentation for sahi delay.

close #79 rename property sahi.proxy.requestDelayOnSikuliInput.delayTime -> sahi.proxy.onSikuliInput.delayPerKey and sahi.proxy.requestDelayOnSikuliInput.refreshTime -> sahi.proxy.onSikuliInput.delayBeforeInput

finish JavaDSL to be fully supported of all Sakuli features also in Java

fix #11 custom sahi-port handling (use different ports for sahi-proxy)

close #7 update sahi-jar verison to sahi 5.0
Version 0.5.0
rename sakuli.autoHighlight.seconds to sakuli.highlight.seconds

Documentation

fix #72 modfy testsuite.suite file writer - just overwrite the file if any blank lines are inside

add Environment#resetSimilarity()

fix api generation script

improve error message for invalid paths in 'testsuite.suite' file

add support for more screenshot paterns - .jpg, .JPG, .png, .PNG

#52 rename sakuli.receiver properties to sakuli.forwarder

fix #71 add the resumeOnException flag to some missing handleException calls

refactor exception handling // improve exception handling for javaDSL

refactor dependency management // extract bin, config, libs to new common 'module'

#13 rename screeshot property to 'sakuli.screenshot.onError'

#20 enable testCase.endOfStep("name")

#66 add -b, –browser into sakuli.jar/sakuli.sh

#64 Added Linux (sakuli.sh) and Windows (sakuli.bat) starter.

#55 low-level-mouse functions, add mouseMove(), mouseUp(mouseButton), mouseDown(mouseButton)

#60 refactor command line options

#62 move log-level settings to sakuli.properties

#60 introduce a 'sakuli-default.properties' file to move the sakuli.properties to the test suite root

#60 introduce new file system structure
Version 0.4.9 (Bugfix Release)
add #106 add warn/crit thresholds as perfdata values for the Gearman results

Adaption for 3-digit case/step ids

PNP template with unknown perfdata support

added TICKer for incomplete data, warn/crit states

Changed color scheme

add #77 separate error state to identify the affected TestCaseStep on errors:

modify SakuliExceptionHandler to find current Step and enable adding exception to the current step

add error message output for exceptions in TestCaseSteps

add #31 determine all not executed TestCaseSteps, to secure that the nagios performance graphs are displayed correctly:

introduce new TestCaseStepState INIT

modify nagios RRD performance data output for initialized and not started steps to typ 'unknown'

add caching mechanism the step information for not started steps implementation

call write cached steps information on every 'not error' result

gearman forward: write unknown values to every result line if a suite, case or step entity has finished with errors or have even not been called

database forwarder: write NULL instead of '0' at warning and critical times

add takeScreenshot() method to Region object to get the current region as screenshot

add troubleshooting for Nullpointer at new Application("..").getRegion() to documentation

fix PrioritizedServiceComparator so now 2 service with the same priority will also accepted

add jenkins-build badge

add #46 add dev-v0.4 read-the-docs & read-the-docs badge

add #96 add variable '$testSuiteFolder' fore more strait forward import handling

fix dependency path of javafx for java7

close #92 exclude Base64 String in log output

modify documentation of warning / critical times

add testcase.endOfStep function without warning time

add #81 change numbering scheme for cases and steps to always three digits to expanded color array in PHP template
Version 0.4.8
fix bug: test suite has stat 'OK' instead of 'RUNNING' during the execution

improve logging for more information, see Sakuli - Manual

clearify the sakuli encryption functionality - modify documentation and improve the implementation, see #5

refactor data structure, see #60

extract sakuli.properties to the test suits folder and introduce a sakuli-default.properties file.
Version 0.4.7
add function getLastUrl() to the TestCase functions, to enable URL based test case handling.

uncomment some receiver properties in sakuli.properties to make the property overriding more generic.

fix bug that new Region("image_pattern.png").click(); always clicks on the center of the screen

introduce experimental JAVA-DSL as new module
Version 0.4.6
add sleep() method to Region

keyUp(…​), keyDown(…​) and write(…​) method to the Region and Environment functions to have more control over the typing.
Version 0.4.5
add method to set an delay for the sahi-status-requests, so that no key or click events will be lost by the JavaScript engine of the Browser, see new entry in sakuli.properties:
 # Specifies the interval in milliseconds, what should be applied when sikuli based input
 # (like typing or clicking) is interacting with a Browser website.
 # This setting only make sense, if your test does NOT use Sahi functions for controlling the
 # testing website. This setting will prevent the test for losing some key or click events
 # in case of blocking, synchronous sahi-interal state requests.
 #
 #sahi.proxy.requestDelayOnSikuliInput.delayTime=500
 #
 ### refresh time for the sahi proxy to set the delay time
 #sahi.proxy.requestDelayOnSikuliInput.refreshTime
Version 0.4.1
update release build so that the zipped-release files can be downloaded from http://labs.consol.de/sakuli/install.

remove zipped-release files from git repository

documentation update

build automatic sakuli-api documentation

clean up repository

introduce some maven-profiles for individual usage

change .inc and .sah file ending to .js

fixed some typos

set up jenkins build
Version 0.4.0
centralized the configuration of properties files:

include/sakuli.properties now contains all possible configuration options for Sakuli. These are the _default values for all tests

<test-suite>/testsuite.properties contains the test suite specific configuration options. The only mandatory property here is the test suite identifier testsuite.id. All other properties are optional.

Options set in testsuite.properties will override the default settings in sakuli.properties

Proxy configuration options can now be set in sakuli.properties (defaults) or testsuite.properties (suite specific)

Re-organized the folder structure of sakuli-zipped-release-vX.X.X.zip and source code directory.

Extended logging with more configuration possibilities (SLF4J with underlying logback-Logging)

Consolidation of the applicationContext files

Remove the program-based setting of system properties.

The possibility to disable the "encryption interface" with new property sakuli.encryption.interface.testmode=true

Added a separate module for integration testing

Bugfixing and extended unit tests

documentation update

Added a separate module for integration testing.

Bugfixing and extended unit tests.

Update the documentation
Version 0.4.2
Introducing receiver concept: For each receiver the results will be sent. Currently Supported JDBC-Databases and the Gearman receiver.

Gearman receiver: sent all data directly to your OMD/Nagios distribution. Currently it is missing that the screenshots will also be transferred. This will be fixed in the next version

Bugfixing in maven build, exception handling, testcase ids and added some more unit tests
7. Support
You want to use Sakuli in your project and need on-site help from our Sakuli experts? You've got a specific question about Sakuli implementation, or you're just looking for some guidelines and best practices in writing test cases or setting up your infrastructure? Please feel free to contact us! We will be glad to help you achieve your goals and a stable software application.
The Sakuli developers are the same that deal with high complex enterprise applications and cloud-based technology at our customers every day. So if you need special extensions or new features, do not hesitate to contact us! We would like to help you!
Also if you need Sakuli patches or fast access to special programming from the Sakuli development team contact us!
7.1. Training
Sakuli grew out of multiple software development and monitoring projects at ConSol. The Sakuli team can assist you not only in testing your enterprise applications but also in develop, operate and monitor those. If you looking for expert assistance regardless of which part - talk to us!
More information you also find under our project homepage: www.sakuli.org
7.3. Contact
The Sakuli team members will listen on the following channels:
The company behind Sakuli:

ConSol Software GmbH
Franziskanerstr. 38
D-81669 München